Charities and communities
Charities and communities benefit from NSW Container Deposit Scheme – more than $47 million has gone back to the NSW community!
Since December 2017, the TOMRA Cleanaway return point network that underpins Return and Earn has delivered more than $47 million to charities and community groups across NSW via direct donations and return point handling fees.
In this short time, the scheme has boosted revenues and donations for more than 700 charities and community groups across the state while creating vital new jobs for social enterprises.
If you are interested in generating additional or new income by recycling drink containers, please contact us.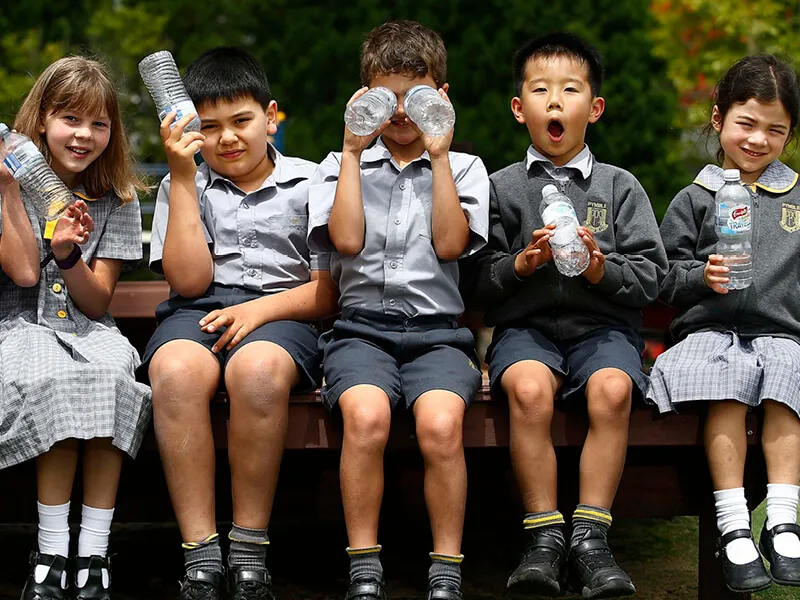 Success stories
Below are just a few of the many success stories from NSW showcasing large and small charities, social enterprises, schools, sports clubs, and local community groups that have benefited from partnerships with TOMRA Cleanaway.
Millions of dollars are generated every year for local communities through operator handling fees.
Every year, social enterprises and charitable organisations like Vinnies NSW, Valmar Industries, Resource Recovery Australia, Bourke Laundry Service and many more are generating significant income by operating return points and receiving a handling fee for every container collected through a partnership with TOMRA Cleanaway.
With millions of containers collected and processed by these return points every week, a wide range of new employment opportunities and a significant revenue stream is created for our partner organisations, providing valuable funds that can be invested back into welfare programs or social enterprises.
Contact us to become a Charity Return Point Operator raising funds for your charity.
Close to $1 million raised through our major recycling appeals
The digital connectivity offered by our RVMs, combined with the state-wide coverage of our network, allows us to partner with major charities on unique fundraising campaigns.
Machine users can support a worthy community cause simply by returning eligible bottles and cans and selecting the on-screen 'Donate' option.
Our major recycling appeals have raised close to $1 million for charities, including Beyond Blue, OzHarvest, Rural Aid, Starlight, The Salvation Army and WWF Australia. We've helped communities affected by natural disasters and, more recently, by the COVID-19 pandemic.
These campaigns highlight a specific cause, raise substantial awareness about a charity's work and community impact, and give people a direct and tangible way to help.
These major recycling appeals have so far raised:
$423,519 through the 'Bottles for the Bush' appeal, with 100% of the funds going to Rural Aid to assist farmers and rural families
$244,383 through the 'Bottles CAN Change Lives' appeal, with funds supporting Beyond Blue, OzHarvest and The Salvation Army on the back of the COVID crisis in 2020
$144,515 through the 'Cans for Koalas' appeal, with funds going towards WWF's Australian Wildlife and Nature Recovery Fund to help restore affected habitats of iconic local species following the 2019 bushfires
$120,000 through the 'Containers 4 Kids' appeal, with funds helping Starlight Children's Foundation brighten the lives of over 3,000 sick kids in hospital and their families
Find out more about our last major recycling appeal.
Hundreds of schools, charities and not-for-profit groups are benefiting from tens of thousands of drink container refunds donated every week
The 'Charity' functionality on the scheme's app enables everyone who returns their eligible drink containers to donate some or all their refunds directly to a charity, school, sports club, or community group via their smartphones.
The functionality offers a unique level of transparency that allows app users to find out more about the donation partner, check their credentials and where the funds will go. The live status shows funds raised in real time, keeping donors up to date. The app can provide tax-deductible receipts directly to donors, helping save precious time for charities with Deductible Gift Recipients (DGR) status.
An unlimited number of not-for-profit organisations can benefit from receiving donations simply by being listed on the app. In no time, they can start receiving donations from ANY RVM in the state. With no upfront costs or ongoing overheads, this digital fundraising tool provides a unique opportunity for charities to access a network of hundreds of thousands of app users and potential donors.
Contact us to become an App Donation Partner.
Our Reverse Vending Machines (RVMs) enable recyclers to donate their drink container refunds to one of up to four donation partners listed on the RVM screens.
With over 350 RVMs across NSW, there is an opportunity for hundreds of small and large charities, schools, sports clubs and local community groups to become on-screen donation partners and benefit from millions of refunds every year.
With no upfront costs or ongoing charges, RVMs connect not-for-profit organisations with a large network of potential donors. Not only does it help charities raise precious funds and increase their profiles in the community, but by receiving donations directly from the listing on our screens, it's also an easy way for volunteers, supporters and generous recyclers to participate and give back to the community.
Donation partners can be listed on the screens of RVMs located in their area. Schools and sports clubs are generally featured on a couple of machines, while a regional charity could potentially be listed on more than 15 machines. Statewide charities can apply to be listed on the entire network of RVMs.
Contact us to become an On-Screen Donation Partner.
The 'new sausage sizzle' raising valuable funds for local charities.
A wide range of community groups proactively engages their volunteers and supporters to collect as many drink containers as possible, returning cans and bottles to their local machines or collection points to cash in the refunds.
The funds raised by community groups across NSW through the Bottle & Can drives or donation bins are estimated to be in the millions of dollars since the start of the scheme in December 2017.
As the network operator, TOMRA Cleanaway is a key first point of contact for organisations willing to increase their involvement with the scheme. We are helping these community groups gain access to the scheme's key information, collection bags and scheme-branded signage. We also share PR and marketing tips on how best to engage with the local community.
The following community groups we have supported represent a snapshot of hundreds of similar stories across the state:
Lions Club of Ballina, Gerringong and Temora, who have raised more than $120,000, helping fund vital community initiatives
Ballina Hospital Auxiliary, who have collected over 20,000 containers to date, raising $2,000 to help buy equipment for maternity, emergency and operating theatre patients
Marine Rescue Sydney – State Communications Centre (ex – Terrey Hills),who have raised more than $5,000 since they started fundraising through the scheme in March 2019, helping increase boating traffic safety in NSW
Can Assist Orange, whose team have collected tens of thousands of containers to deposit at RVMs, raising more than $5,000 since August 2020
Each of these organisations decided to use the scheme to help the environment and reduce litter by placing can and bottle donation bins or large donation bags at their local schools, swimming pools, sports clubs or caravan parks. The collected cans and bottles are then returned to a collection point, with the resulting funds channelled back into important community programs, such as drought, fire and flood relief, in-school initiatives, provisions, and a wide range of other vital local initiatives that are making a difference to the lives of many members in our community.
Contact us to find out how we can help you run a successful 'Bottles & Cans' drive.
Reconciliation Action Plan (RAP)
As a service provider to the NSW community, our vision for reconciliation is to actively participate in connected communities that are uplifted through their involvement with our network and services. TOMRA Cleanaway engages in meaningful relationships that benefit Aboriginal and Torres Strait Islander peoples and businesses across our locations of influence.
Our business recognises the local Aboriginal community where our head office operations reside, the Darug people of Western Sydney. Throughout our commitment to reconciliation, we will continue to engage and reach out to members of the local Darug people to help guide us in our RAP journey. TOMRA Cleanaway's operations occur in multiple Countries across NSW and VIC which involve engagement and working with Aboriginal peoples across these regions.
TOMRA Cleanaway has endorsed a Reconciliation Action Plan Working Group to actively organise and encourage our team and business in formulating and encouraging our reconciliation journey.
TOMRA Cleanaway is committed to helping build strong relationships and respect between our business, non-Indigenous people and Aboriginal and Torres Strait Islander peoples by creating a workplace culture that understands, values and respects histories, cultures, and contributions of Indigenous people.
RAP pillars
Our RAP journey is based on three core pillars that underpin all that we are aiming for in reconciliation:
Relationships
Respect
Opportunities
In addition to our community engagement, TOMRA Cleanaway is committed to providing a better understanding of the culture and history of Aboriginal and Torres Strait Islander peoples, creating equity and equality within the business, and closing the gap.
A container deposit scheme benefits local communities, both environmentally and financially. The Aboriginal and Torres Strait Island community prides themselves on their strong, sound connection with Country.
This common belief we share will be leveraged to improve our trust and relationships with partners, community members and team members, both non-Indigenous and Indigenous alike.
TOMRA Cleanaway is committed to achieving meaningful partnerships and relationships with Aboriginal and Indigenous businesses and organisations across all regions we operate in.
Our team is participating in respectful and culturally sensitive interactions, and working towards developing trust with our partners to ensure we are delivering opportunities to Indigenous communities across NSW and Victoria.
TOMRA Cleanaway recognises that building strong open relationships with local communities is a fundamental requirement to the success of our business. We believe that relationships are built on respect and trust and developed through consultation and understanding. Only through understanding and connecting with Aboriginal and Torres Strait Islander peoples can we achieve greater learning and engagement with the communities in which we operate.
TOMRA Cleanaway's commitment to cultural awareness will continue to be developed across focus areas mentioned below, to ensure that staff and contracted service providers understand and respect the strengths of Aboriginal and Torres Strait Islander peoples.
TOMRA Cleanaway has engaged our return point partners to investigate their involvement in their local community, particularly their current processes involving their Aboriginal and Torres Strait Island community members.
Information gathered will be used to provide evidence on the benefits of localised partnerships, enabling more return points to get actively involved in engaging their local Aboriginal and Torres Strait Island peoples to get involved, increasing recycling and waste management practices in Country and committing to reconciliation.
Articles related to our RAP commitment:
Industry leaders
Container deposit schemes represent just a fraction of the global waste and resource recovery industry.
TOMRA Cleanaway is committed to providing the community with an essential service for public health and wellbeing.
Container deposit schemes are underpinned by extended producer responsibility, whereby the producer of a waste item is required to fund efficient and effective material recovery and recycling processes.
As global movements turn consumers away from single-use items, container deposit schemes provide a sustainable, government-legislated mechanism for recycling single-use beverage containers to enter a circular economy.
Global container refund and return schemes
Container deposit schemes are known as 'bottle deposit schemes', 'deposit refund or return systems' (DRS), or 'bottle bills', and are generally underpinned by legislation.
Container deposit schemes operate through the addition of a small deposit on the price of a beverage. In most instances, these are beverages consumed away from the home and are considered to be 'single use.' The deposit paid by the consumer is refunded when the empty drink container is returned. In Australia the deposit is 10 cents.
In December 2017, the United Nations Environment Agency encouraged all countries globally to implement container deposit schemes.
The Single-Use Plastics Directive adopted in 2019 by the Council of the European Union has set a goal for member states to collect 90% of all plastic bottles by 2029, with an interim goal of 77% by 2025, through initiatives such as container deposit schemes.
Return and Earn is a modern, convenient and accessible example of a container deposit scheme. Backed by legislation, Return and Earn was designed and developed by the NSW EPA to reduce drinks container litter across NSW.
The success of the scheme is due to a strong framework of government and industry partnership regulated by the NSW Environmental Protection Agency, administered by the Scheme Coordinator, Exchange for Change, and delivered by network operator TOMRA Cleanaway.
Starting in December 2017, Return and Earn is the biggest litter reduction initiative ever introduced in Australia. With a goal of a 40% reduction in drink container waste in the litter stream by 2020, Return and Earn has delivered outstanding achievements in a very short time.
In just over 5 years, the milestones achieved by the Return and Earn container deposit scheme are impressive. Over 10 billion containers returned, a 75% participation rate by the community, a 75% container redemption rate for Jan–June 2020, and over 500,000 tonnes of commodity recycled demonstrate the considerable support from the people of NSW for the scheme and the accessibility and convenience of the TOMRA Cleanaway network of return points.
Read about the Return and Earn NSW recycling success story, or view the NSW 2019-2020 Return and Earn: Annual Statutory Report
Visit Return and Earn for more information.
The ANZPAC Plastics Pact
TOMRA Cleanaway is proud to be a member of the Australian Packaging Covenant Organisation (APCO) Plastics Pact.
As a leader in container deposit scheme network operation, we are committed to contributing to achieving the ANZPAC Regional Plastics Targets by 2025, and we welcome engagement to identify and deliver solutions for plastics, share knowledge and collaborate.