TOMRA Cleanaway was formed in 2017 as a joint venture governed through our shareholders, TOMRA Collection Solutions Australia, a global leader in reverse vending and sorting technology, and Cleanaway Waste Management, Australia's largest waste and resource recovery organisation.
We were formed to deliver the NSW container deposit scheme as the government-appointed network operator for Return and Earn. We have since become leaders in delivering premier container deposit scheme operations and commodity management.
We have envisaged and delivered a modern, convenient, and accessible container deposit scheme for the 8 million citizens of NSW. In the process, a new benchmark in behaviour change management for Australia has been achieved.
In April 2023, TOMRA Cleanaway was appointed as the West Zone network operator for the Victorian container deposit scheme CDS Vic, where we will use our experience and expertise to deliver a network of roughly 180 refund points to Victorians in the West Zone once the scheme is fully mobilised.
Our guiding principles
Caring for our community
Our community is at the core of our success. We are committed to enabling all members of the community to participate by making use of our container deposit networks, and at the same time, creating opportunities to support local causes and fund community events.
Making it easy
We provide accessible return points for the community. Whether it's one container or 1,000, we take them all. With the diversity in network capabilities, we can meet the needs of our communities across metro and regional Australia.
Doing what we say
We're committed to transparency and the delivery of a reliable container refund network through real-time data. Transparency in our operations sets us apart from our competitors.
Our mission: deliver value through recycling.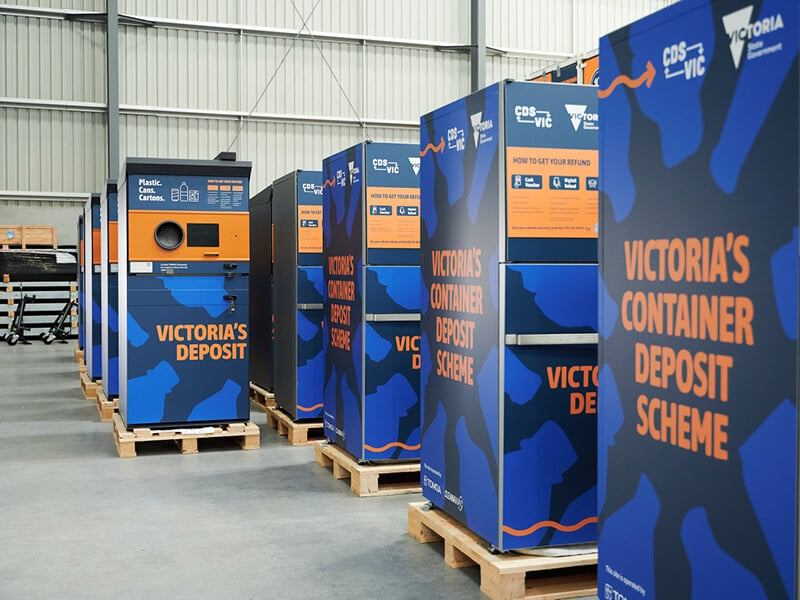 Our services
Australia is committed to transitioning to a more circular economy, where materials at the end of their useful life are no longer seen as waste, but as a valuable resource that can be re-used, recycled, or remanufactured time and time again.
This circular lifecycle means waste doesn't end up in landfill, pollution is decreased, and fewer raw materials are required to create new products – just to name a few!
Container deposit schemes are underpinned by extended producer responsibility, whereby the producer of a waste item is required to fund efficient and effective material recovery and recycling processes.
As global movements turn consumers away from single-use items, container deposit schemes provide a sustainable government-legislated mechanism for recycling single-use beverage containers and contributing to a circular economy.
Everyone has a role to play in transforming our waste and resource system through container deposit schemes.
Consumers
As consumers, we are all responsible for ensuring that whatever we're buying is disposed of correctly. Just as we all separate our household waste into our kerbside bins, separating our eligible cans, cartons and bottles for recycling through the CDS is just another responsibility we all share.
We all have the power to do the right thing, and by returning containers for recycling through the CDS we know that these containers won't enter our environment as litter or landfill and that they will continue their journey through the circular economy.
Container collection logistics
Working with the refund collection point partners, our logistics fleet collects and transports containers from all our container refund points, whether these are RVMs or OTCs, and transports them back to a central counting and sorting facility for further processing.
Our logistics fleet is managed using real-time live data and has been designed to access busy metropolitan car parks and the wide-open roads of regional Australia.
Materials/commodity sales
Separation of materials through a container deposit network results in a stream of clean materials – counted, sorted, baled and ready to be sold as a contaminant-free commodity to domestic and global buyers.
In a circular economy, we stop seeing discarded containers as waste, and instead we start seeing a highly valuable material that can be manufactured into new products to be re-used and recycled all over again.
Container refund points
Container refund points are where consumers can return their eligible beverage containers for recycling through the CDS and receive their 10 cent refund per container.
These refund points are where materials will be scanned and verified before being sorted into the initial material streams for further processing at our central counting and sorting facilities.
Counting, cleaning & sorting
Containers are delivered to a central container sorting facility where they are sorted by highly automated equipment that detects and sorts by material type – aluminium, glass, steel, plastic, and liquid paperboard – to be sold and recycled as high-quality materials to domestic and global buyers.
Beverage manufacturers
Beverage manufacturers have the ability to purchase repurposed materials that have made the journey through the container deposit system, to remanufacture into new bottles and can, to be reused and remanufactured again and again through this system of circularity.